Wood Speaker Stand
– for Ceramic Speakers by Joey Roth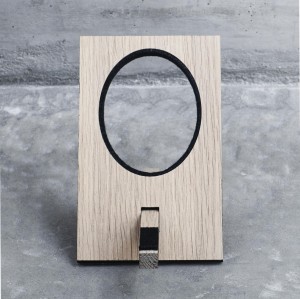 Inspired by the Ceramic Speakers from designer Joey Roth, these stands were made to complement the original design with a clean look and beautiful lines. Handmade in Denmark, they combine natural materials and modern technology with a minimalist approach inherent in Scandinavian design.
The stands are made from American White Oak, chosen for its resilience and strength. The grain and knots found in the wood give the stands a natural beauty, brought out by careful polishing and oil-based treatment in order to preserve their texture and great looks over time.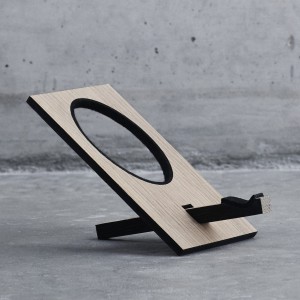 The wood is processed by hand and later cut using an industrial laser from Kern Electronics Inc. The dark edge left by the laser provides a stark contrast to the wood, and complements the speaker perfectly. Each stand is then polished to a fine grain by hand and varnish is applied to the sides to protect and preserve their darker color. Laser cut felt is fitted to receive the speaker on both stand and bar.
Finally, an oil-based treatment is applied to the front and back, to protect the wood and enhance the inherent patterns in the cut. Natural Oil will darken the wood, complementing darker surfaces and heavier decor, while White Oil preserves the look of untreated wood and looks great on brighter surfaces.
Ordering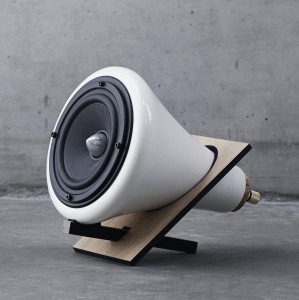 Once you've decided which treatment will best suit your home/office setting, simply place your order below and your stands will be treated according to your wishes and shipped to you shortly. Please note that oil-based treatment is a manual process and therefore results may vary, but efforts are made in order to ensure consistency.
If you have a special request for a darker or lighter treatment, please send an email after ordering.
Orders will be processed as they come, but allow 3-4 days for treatment before shipping.
Please note that production has stopped. Write an email (see contact) if interested.